Carol Varsalona
Sixteen years have gone by but there is still a sadness as the the fallen heroes of 911 are remembered around the world today. It is September 11th, Patriot Day. To honor the stories of 9/11 that started as an ordinary day in, Twitter created hashtags, #PatriotsDay and #Ground Zero. Needless to say, they have been trending as comments have poured in from around the states.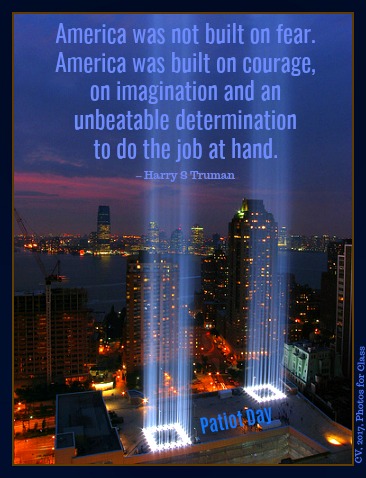 You can read the continuation of my blog post with reference to other posts I have written on the topic of September 11th at http://beyondliteracylink.blogspot.com/2017/09/we-....
In my heart, I have kept the memory of the horrific events of 9/11 alive over the years.
Today, I watched another disaster but this one was a natural disaster of great force. The winds and waters of Hurricane Irma swept through Floridian towns and up the eastern seaboard causing tremendous damage and displacement of families. I wished for the safety of those in the area, including family and friends, a brighter day tomorrow, and hope in the future.
Connection to Literacy Learning:
Teachers and parents who have young children who have not heard of 9/11 or Hurricane Irma that has caused harm to families, should read, Wonderopolis' Wonder of the Day #822, Do You Know Who To Call in an Emergency? It is a good starting place to begin a discussion on what to do in an emergency and how to call for emergency help at 9-1-1.
Resources:
Keywords:
Share:
0

Comments
Latest Posts from Our Lead Ambassadors:
Krissy Pierce
Nov 1, 2017
Sitting in a Social Studies PD today on Inquiry Design Model and WONDERing how Wonderopolis is utilized in other classrooms as part of Inquiry Based ...
0
Renee Cunningham
Oct 18, 2017
I have been bitten by the green eyed monster...envy. The fall is an exciting time for educators as there are lots of professional learning ...
0
Lisa Silmser
Oct 4, 2017
My school district has a Wellness Policy that strongly encourages the teachers to enforce restrictions on classroom treats and candy. The intention ...
0