Carol Varsalona
Creativity and wonder move in accordance from season to season. While winter has transitioned into springtime, I continue to write daily to spark the imagination. I spend worthwhile time noticing and wondering about my surroundings. Perhaps, you do so, too.
Nature provides a wonder-filled background for writing. During National Poetry Month, social media is buzzing about poetry. There are many challenges popping up. If you are inspired to create during Poetry Month, I have a challenge for you. You can view my invitation to create a springtime image poem or photo image at my newest gallery of artistic expressions, Springsations, here.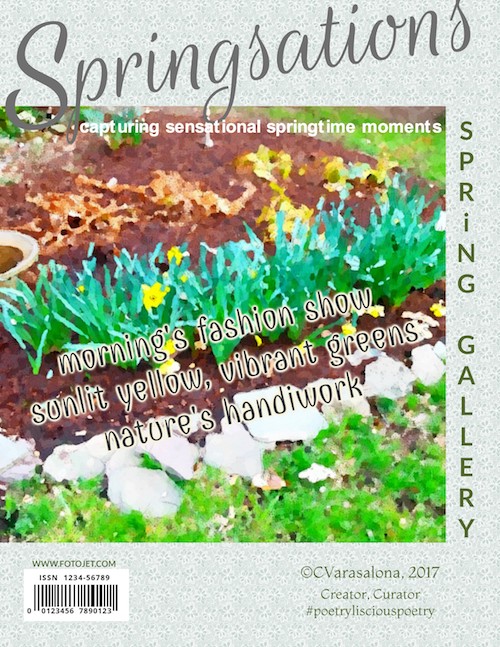 Wondering how to get started? Take a gallery walk through last season's gallery, Winter Wonder, that I created in shades of white and gray. This global gallery with offerings from artists, poets, writers, and students from around the globe captures the beauty of winter's stilled wonders.
You can use the variety of poems featured as mentor texts to create your own single image poem or a collection of them for #Springsations.
Noticing life's fragile artwork brings wonder to an inspired level.
Join me as I create and curate the magical power of the spring season in poetic thought. I wish you many moments of noticing and wondering about your surrounding. Happy writing during National Poetry Month!
Notes:
You can view my #poetrylisciouspoetry collection and weekly blogs at my blog site, Beyond LiteracyLink (http://beyondliteracylink.blogspot.com/). I welcome guests.
I am in the process of creating a Wonder Bundle to spark ideas on writing poetically with students. Stay tuned.

Keywords:
Share:
0

Comments
Latest Posts from Our Lead Ambassadors:
Kristie Ennis
May 22, 2018
This weekend, I had the opportunity to spend some time at the Morton Arboretum in Lisle, Illinois. It was an overcast, but warm day and the ...
0
Renee Cunningham
Apr 14, 2018
Anyone who has spent time around a three year old has become weary of the question, "Why?". At this age kids are so naturally curious, and are ...
0
Delsia Malone
Mar 12, 2018
Ever wonder why 10,000 steps should be taken each day? Every wonder how on earth to monitor or count 10,000 steps each day? I recently had ...
0