Carol Varsalona
Creativity and wonder move in accordance from season to season. While winter has transitioned into springtime, I continue to write daily to spark the imagination. I spend worthwhile time noticing and wondering about my surroundings. Perhaps, you do so, too.
Nature provides a wonder-filled background for writing. During National Poetry Month, social media is buzzing about poetry. There are many challenges popping up. If you are inspired to create during Poetry Month, I have a challenge for you. You can view my invitation to create a springtime image poem or photo image at my newest gallery of artistic expressions, Springsations, here.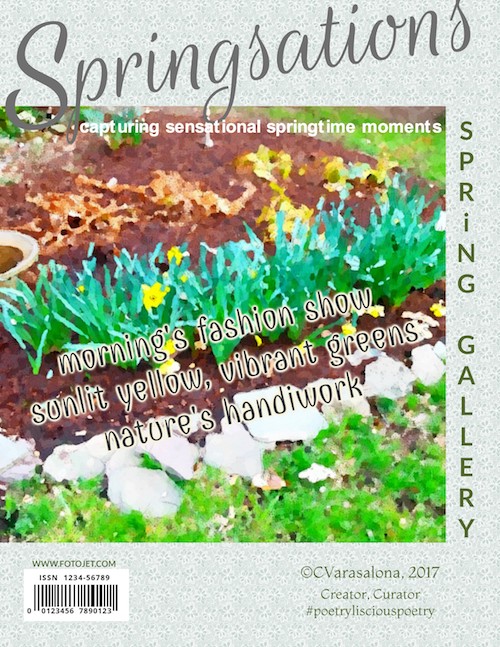 Wondering how to get started? Take a gallery walk through last season's gallery, Winter Wonder, that I created in shades of white and gray. This global gallery with offerings from artists, poets, writers, and students from around the globe captures the beauty of winter's stilled wonders.
You can use the variety of poems featured as mentor texts to create your own single image poem or a collection of them for #Springsations.
Noticing life's fragile artwork brings wonder to an inspired level.
Join me as I create and curate the magical power of the spring season in poetic thought. I wish you many moments of noticing and wondering about your surrounding. Happy writing during National Poetry Month!
Notes:
You can view my #poetrylisciouspoetry collection and weekly blogs at my blog site, Beyond LiteracyLink (http://beyondliteracylink.blogspot.com/). I welcome guests.
I am in the process of creating a Wonder Bundle to spark ideas on writing poetically with students. Stay tuned.

Keywords:
Share:
0

Comments
Latest Posts from Our Lead Ambassadors:
Kristie Ennis
Jun 16, 2017
Having just relocated to a new city five hours from my home of 34 years, I felt the wanderlust tugging at me when I packed up my car to drive away ...
0
Jim DeSantis
Feb 21, 2017
The computer as we know them today have changed drastically since they first became a consumer product. Wonder #292 talks about "What is The ...
0
Krissy Pierce
May 16, 2016
Our beloved PE teacher announced this weekend that she is completely redesigning this year's Field Day (which takes place in one week!) with an ...
0