Christie Wyman
On Tuesday morning, the most magnificent rainbow appeared in the sky just as families in cars and buses filled with excited children were making their way to school. Cars pulled over, parents and staff snapped pictures as children squealed with joy. What a way to start another day of learning and growing together!
With this image still vivid in my memory, I scrambled for pen and paper when my students were safely delivered to PE class. I scribbled down words, thoughts, and feelings that came to mind, knowing that there was a poem amongst those faded pastel hues. Later that day, I curled up with a cup of tea and my scribbles. Wondering what more I might add to my ideas, I searched Wonderopolis (a great source for poetic inspiration) for a wonder about rainbows. I found Wonder of the Day #116: Why Do Rainbows Appear? and mined a few more descriptors and facts from the text. After some gentle nudges, a rainbow appeared.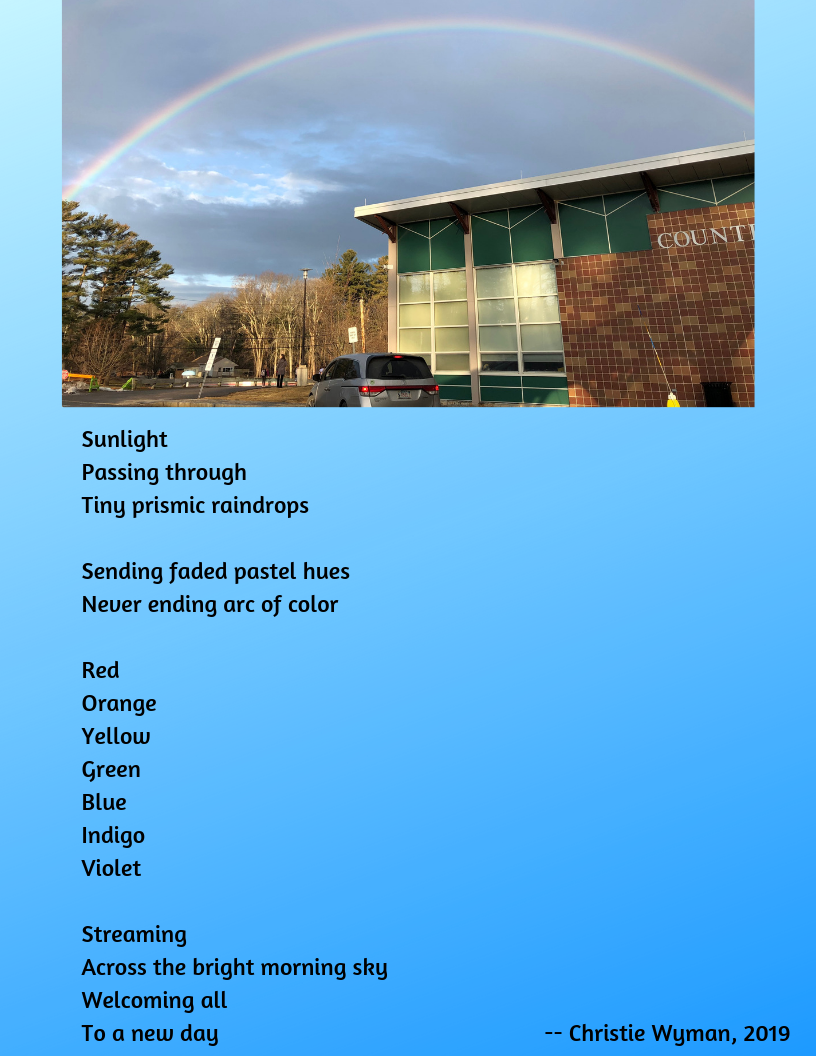 The next time your students are looking for a bit of inspiration, perhaps you'll guide them towards Wonderopolis wonders. You never know where it might lead.
Keywords:
Share:
2

Comments
Latest Posts from Our Lead Ambassadors:
Carol Varsalona
Apr 25, 2019
It only took one spontaneous moment to jump in the car and drive to a favorite Long Island seaside destination, the City by the Sea/Long Beach with ...
0
Matthew Arend
Mar 30, 2019
(A co-written post by Wonderologist Lorie Lyon and Wonder Lead Ambassador Matt Arend) Having the opportunity to be a Wonder Lead Ambassador has ...
0
Kristie Ennis
Feb 26, 2019
As we grow older, our sense of wonder tends to move to the back burner. Adulting is hard, y'all! That doesn't mean wonder disappears; it just means ...
0