Carol Varsalona
Summertime is a joyful time of year to explore, play in the sun, relax, and recharge. One way to do so is to enjoy the pleasures of reading and writing while sipping lemonade, digging your toes in the sand, or enjoying your summer day by the pool, on your patio, or in an air-conditioned spot.
Did you know that there is a place on earth that the sun never sets? Intrigued? Read about it at the Wonderopolis Wonder of the Day #790, Where Does the Sun Never Set? Then, be inspired by this text to write a poem about the long days of summer.
I invite everyone to join my creative challenge: create a poem, lyrics to a song, an inspirational quote, or take a photo to send it in for an upcoming summer gallery of artistic expressions. See my post, Summer Joy, for inspiration.
Below is my short poetic tale of the opening of the concerts at the beach series in Long Beach, NY. It is created in a cherita format. Now it is your turn to be creative.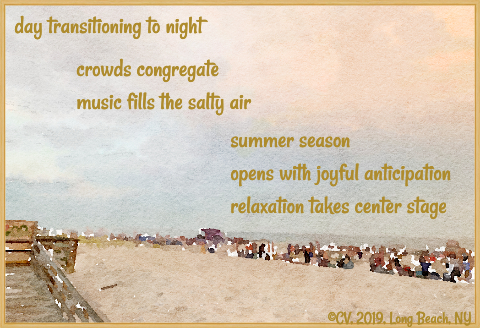 Happy Reading and Writing this summer!
Keywords:
Share:
0

Comments
Latest Posts from Our Lead Ambassadors:
Laura McShane
Oct 16, 2019
This past Sunday, I explored an old carriage trail in the Cuyahoga Valley National Park. As I hauled my bike uphill, I realized how scary this ...
4
Christie Wyman
Apr 28, 2019
Ever tried creating a poem with Poem Generator? Why not give it a try!
0
Kristie Ennis
Feb 26, 2019
As we grow older, our sense of wonder tends to move to the back burner. Adulting is hard, y'all! That doesn't mean wonder disappears; it just means ...
0