Carol Varsalona
"... and all at once, summer collapsed into fall." -Oscar Wilde
September heralded autumn and
prepared for a grand showing . All
noted nature's bountiful brilliance at
fall's season-changing time. Once
zephyrs changed course, summer
found its niche and collapsed
its humid hold, leading life into
a golden, pumpkin-spice fall.
©CVarsalona, 2017
(The above poem is based on the Golden Shovel format. The last word of each line is from the Oscar Wilde quote.)
Summer may have collapsed into fall but I'm wondering if my trip to Tuscon will offer autumn delights or still linger in summer heat. Wondering will continue at the Wonderopolis roundtable team's presentation, On the Wonder Pathway to Empower Learners and Amplify Voice, at the NCFL 2017 Conference, October 9-11, 2017. I can't wait to join my team. Stay tuned for more news.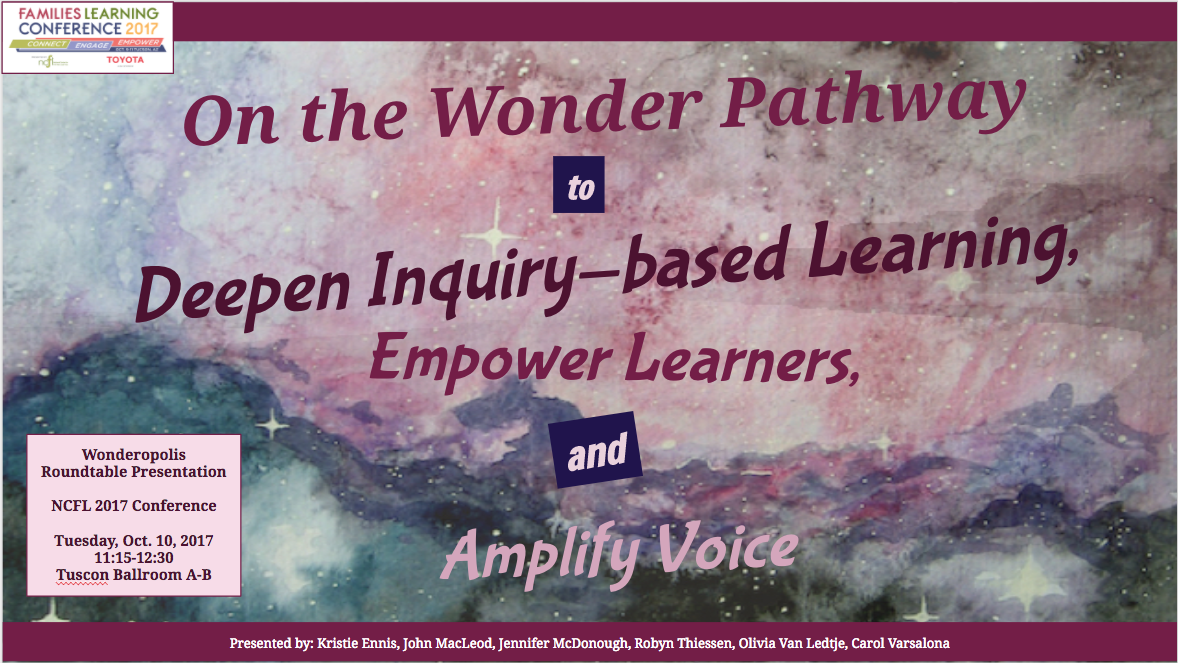 Keywords:
Share:
0

Comments
Latest Posts from Our Lead Ambassadors:
Kristie Ennis
May 22, 2018
This weekend, I had the opportunity to spend some time at the Morton Arboretum in Lisle, Illinois. It was an overcast, but warm day and the ...
0
Jennifer McDonough
Oct 23, 2016
This summer I presented with Georgia Heard, author and educator extraordinaire. We were presenting on the importance of wonder and inquiry in the ...
0
Paul W. Hankins
Sep 12, 2016
"When Readers Find The Books Seeking Them": Two Teachers Talk Twin Towers TitlesTHIS IS A CROSS-POST BLOG from THESE 4 CORNERS (Paul's Blog)A ...
0