Christie Wyman
During the month of April, National Poetry Month, I participated in poet/author Amy Ludwig VanDerwater's "1 Subject 30 Ways" challenge. Her challenge was also a bit of an informal book study and master class, as she used her fall 2017 release Poems Are Teachers (Heinemann) as her guide.
One of the poetic techniques chosen by Amy was to be inspired by science. My subject all month-long was vernal pools. The inspiration for that day's poem came straight from the "Find Ideas in Science" section of Amy's book. A resource she suggested was the "Wonder of the Day" articles on Wonderopolis.org. Last year my Kindergarten class and I submitted a wonder to Wonderopolis and this winter it was published -- Wonder of the Day #2105: What Is a Vernal Pool? (Click here to read more.)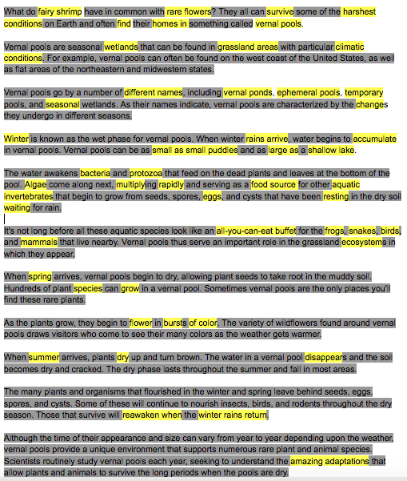 Using the text from this WOTD, I created a blackout poem, highlighting the text I wished to keep and slightly blacking out what I did not wish to use.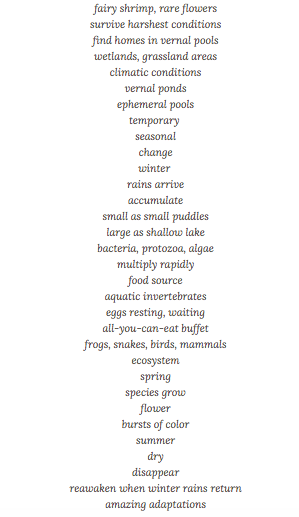 As an extension, I captured the final text and magically it reflects the ebb and flow of the vernal pool life cycle!

Why not find a WOTD that relates to your curriculum and have your students give blackout poetry a try!
Keywords:
Share:
0

Comments
Latest Posts from Our Lead Ambassadors:
Renee Cunningham
Apr 14, 2018
Anyone who has spent time around a three year old has become weary of the question, "Why?". At this age kids are so naturally curious, and are ...
0
Delsia Malone
Mar 12, 2018
Ever wonder why 10,000 steps should be taken each day? Every wonder how on earth to monitor or count 10,000 steps each day? I recently had ...
0
Paul W. Hankins
Sep 12, 2016
"When Readers Find The Books Seeking Them": Two Teachers Talk Twin Towers TitlesTHIS IS A CROSS-POST BLOG from THESE 4 CORNERS (Paul's Blog)A ...
0