Carol Varsalona
When I was a child, the neighborhood children often engaged in imaginative play. Each spring, we gathered little whites globes found in our lawn to wish upon them. As our cottony, garden ornaments dispersed across the sky, we marveled at these tiny aviators of flight.
Like magical fairies, we danced around, chasing our wishes. Sometimes, we would create crowns of golden dandelions, pretending to be Maypole dancers. Other times, we placed winged tree seeds on our noses and pranced around like horses.
During the wishing ritual, no one could reveal their wish for fear that their hopes and dreams would vanish into thin air. Little did we know that the sky aviators were really golden dandelions turned to seed. It was through imaginative play that we created scenarios and expanded them into stories.
Today, I stopped to pick up a wish weed and a winged tree seed. They reminded me of my past and gave me time to wish for something but I can't tell you what.
You may enjoy listening to the song, Dandelion by Tevin Campbell. It can be found on You Tube here.
Looking into this daffodil field in Estonia, photographed by my writing colleague, Terje Akke, is breathtaking.

If you had a wish weed in your hand what would you wish for this springtime?
Note:
The digitals that are featured in this post will be showcased in my spring global gallery of artistic expressions, Sense-sational Spring. If you would like to offer a digital inspiration, please see the invitation at http://beyondliteracylink.blogspot.com/2018/04/spr....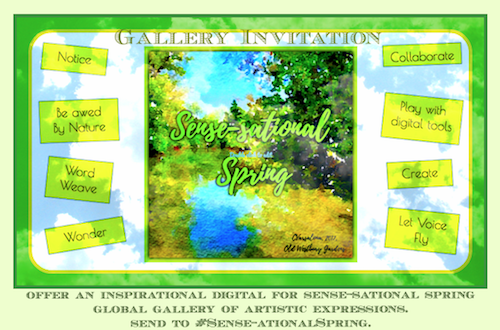 Keywords:
Share:
0

Comments
Latest Posts from Our Lead Ambassadors:
Susan Hellard
Jan 16, 2018
As we begin a new year, face new challenges, and prepare to conquer those challenges, many of us make what are called New Year's Resolutions. When ...
0
Lisa Silmser
Oct 4, 2017
My school district has a Wellness Policy that strongly encourages the teachers to enforce restrictions on classroom treats and candy. The intention ...
0
Jennifer McDonough
Oct 23, 2016
This summer I presented with Georgia Heard, author and educator extraordinaire. We were presenting on the importance of wonder and inquiry in the ...
0