Objective
Introduce readers to the chapter book format and learn about skunks!
There are 26 short chapters in A Boy Called Bat by Elana Arnold. Bat stands for Bixby Alexander Tam. His parents are divorced. He lives with his mom and sister. Bat and his sister also alternate weekends with their father. Bat's daily life is often consumed by obsessive behavior until his mom brings home a baby skunk.
Plan to share 2-3 chapters at a time - 15-20 minutes per day.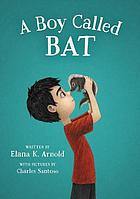 A BOY CALLED BAT has been selected as a 2018 Global Read Aloud book! Learn more about it here: