Back to School - Fly your Flag!!
45 min.
Objective
Explore symbolism of flags by designing individual flags for kids going back to school
Big Idea
Flags are a symbolic way to communicate a message
Help kids allay their fears of going back to school by designing their own "Jolly Roger" flag!
Review:
For elementary students, the discussion can be about overcoming fear: Recommended reading- The Pirate of Kindergarten and Pirate's Guide to First Grade

For older students, the discussion can be about family pride and heritage and how countries use flags:
Review: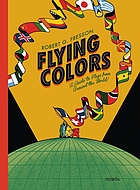 Flying Colors by Robert G. Fresson