Objective
Work with preschoolers to understand their body and emotions--summer story time
Big Idea
Colors help kids express their feelings
Big Book: Here are My Hands by Bill Martin and John Archambault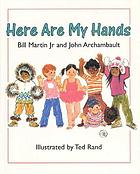 Slowly introduce - color scarves to the kids. Red, orange, yellow, green, blue, violet. Work on color recognition, left hand/right hand, up/down, round and round - I use a variation of Jbrary's:
https://www.youtube.com/watch?v=pv2NC2kSWOY

Rainbow dancers let's get ready Hold your scarves nice and steady. You'll hear the colors of the rainbow. Listen for your time to go. Shake red… Shake orange… Shake yellow… Shake green… Shake blue… Shake purple… Red scarves turn around, Orange scarves up and down. Yellow scarves reach up high, Green scarves fly, fly, fly. Blue scarves tickle your nose, Purple scarves touch your toes. Everybody dance around, Swirl your scarves up and down. Shake purple… Shake blue… Shake green… Shake yellow… Shake orange… Shake red… Rainbow dancers dance around, Scarves swirl up and down. Our colorful dance is at an end. Thank you, thank you, all my friends.

Follow the activity with The Color Monster A Pop-up Book of Feelings by Anna Llenas

Close session w/optional art activity and/or goodbye song: Goodbye, friends (x3) It's time to say goodbye.