Helen Keller - Women's History Month
40 min.
Objective
Inspire a new generation of children to appreciate the contributions of Helen Keller
Big Idea
Life can seem very unfair - but Helen Keller did not let her disabilities limit her contributions to society. Before Helen Keller, people who were blind and/or deaf were treated poorly and often kept in buildings known as "asylums." Helen Keller helped to improve the lives of people who face physical challenges.
Introduce two books -
Autobiography: The Story of My Life by Helen Keller
Biography: In Their Own Words: Helen Keller by George Sullivan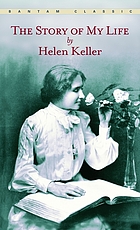 References for game board activity:

100 women who made history : remarkable women who shaped our world
More books for inspiration - https://cml.bibliocommons.com/list/share/841294437...
1880 - Helen Keller born June 27 in Tuscumbia, Alabama.
1882- At two years of age Helen contracts a brain fever, possibly scarlet fever -losing her ability to see and hear.
1886- Helen's father takes her to Washington, D.C to be seen by Alexander Graham Bell.
1887 - Anne Sullivan, a graduate of the Perkins Institute for the Blind, begins to teach Helen Keller.
1900- Helen enters Radcliffe College (graduates in 1904)
1903- Helen writes and publishes her autobiographyThe Story of My Life.
1905- Anne Sullivan marries John Macy - a brilliant editor who helped with the publication of Helen Keller's writings. He joins their household - and leaves in 1914, when he files for divorce from Anne Sullivan.
1914 - Polly Thomson joins the household with Helen Keller and Anne Sullivan.

1936- Anne Sullivan dies Oct 15 with Helen at her bedside. By this time, Polly Thomson has become Helen Keller's primary aide and companion.
1960 - Polly Thomson dies - Helen Keller is 80 years old. Winifred Corbally becomes Helen's nurse and companion.
1962- The Miracle Worker based on the life of Helen Keller released. Patty Duke as Helen and Anne Bancroft as Anne Sullivan win Academy Awards for their performance.
1967 – The Helen Keller National Center for Deaf-Blind Youths and Adults is established by a unanimous act of Congress.
1968 - June 1st, Helen Keller dies in her Easton, Connecticut home.
1999- Time Magazine lists Helen Keller as one of one hundred most influential people of the twentieth century.
Throughout her life, Helen Keller publishes numerous books and articles, supports fundraising for the disabled and serves her country by touring the world.

"We differ, blind and seeing, one from another, not in our senses, but in the use we make of them, in the imagination and courage with which we seek wisdom beyond our senses." - Helen Keller, The World I Live In
Share the manual alphabet chart