Make Way For Ducklings
35 min.
Objective
Understand basic needs for any species
Big Idea
Baby ducks need the same thing, baby humans need - loving parents, a safe home w/access to food
Read the classic Make Way for Ducklings by Robert McCloskey.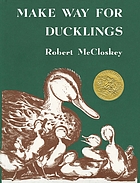 Review Duck Development

https://ideastream.pbslearningmedia.org/resource/tdc02.sci.life.stru.duckdev/duck-development/


Explore My World: Ducklings and Just Ducks are other great books to share!
The places described in Make Way for Ducklings - really exist!
Take a virtual field trip w/Google Earth Lit Trip: Make Way for Ducklings - YouTube