Objective
Improve vocabulary and spelling
Big Idea
Have fun playing with words!
Read Dog on a Log by Kes and Claire Gray
Boy Meets Dog A Word Game Adventure by Valerie Wyatt and illustrated by Dave Whamond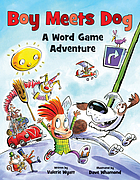 Read Lexie the Word Wrangler by Rebecca Van Slyke and illustrated by Jessie Hartland
From the book: Lewis Carroll, the author of Alice's Adventures in Wonderland is credited with inventing the game of Doublets. The game has since gone on to viral popularity and is most commonly called word ladders or word chains. How many words can students come up with starting with four lettered words like "four" and "head"
Four>five head>tail calf>bull fast>slow