Renee Cunningham
This week I facilitated my first Breakout EDU session with 5th graders. If you are not familiar, Breakout is an educational movement that is quickly picking up steam. It combines critical thinking, teamwork, and puzzle solving into an engaging game.
The official Breakout kits are $100; so I hacked my own using materials I purchased from Amazon. Breakout can be done as a classwide challenge or groups. I wanted to maximize student participation, so I felt like groups would be best.
As students entered the media center I allowed them to select their own groups, and had materials on their table. The locked box, a QR code, iPad, and laminated clue were spread out. As soon as I pointed out the lock on the box I could see students' curiosity in their eyes, and every hand went up when I asked who was curious about what was in the box.
I designed the sequence of tasks myself, so they would be specific to our media center space. I also knew that I wanted to add some variety so that it would not be just a chase of one group following another.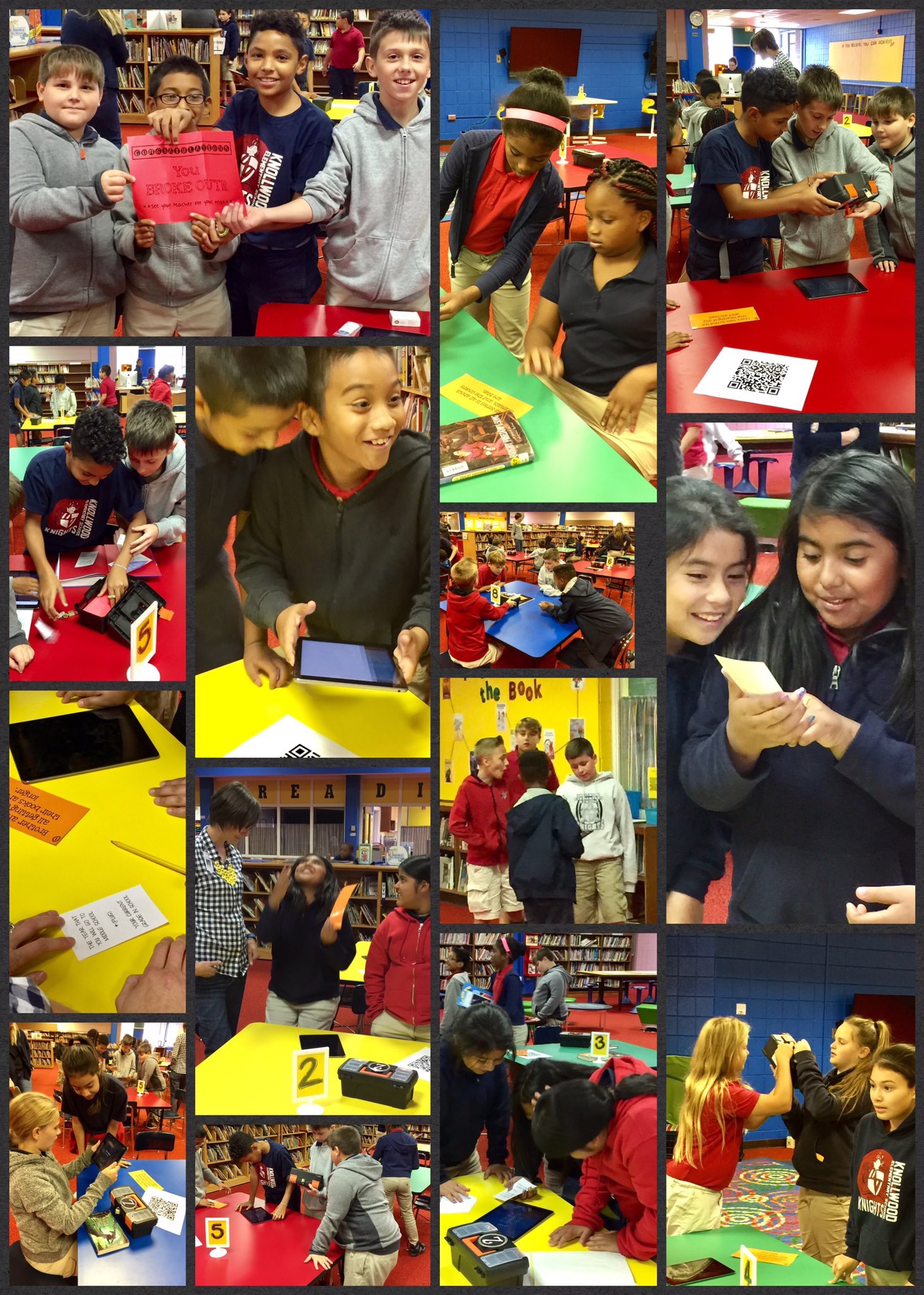 Immediately students gravitated to the iPad; and were stunned when they realized their was a passcode! They immediately brought it to me to say, "there is a passcode" and I sent them back to their group with a coded encouragement of "use all the materials on your table". As a teacher this was highly entertaining to watch because even though the students were frustrated, their determination kicked up a gear.
The sequence of the breakout was that each group had a clue leading them to a popular character or series in the library. Hidden in the books (I selected things we had multiple copies of) was an envelope with a clue in it. This clue was a math problem that helped them crack the iPad code. Once the iPad was unlocked students could scan the QR; where they were given a missing-letter puzzle. The puzzle spelled out my name, and students came to me for a key.
As an educator I had so many take-aways from this event. I was so excited to try it out with my students because I participated in a Breakout this summer at a teacher workshop and was engaged in the activity and determined to crack the code! On a practical level, I realized my students did not know how to spell my name, so after the first class I made sure my nametag was visible for the students to see!
I was amazed and encouraged that students did not give up! I had one group that really seemed to accept defeat, and with some individual encouragement even they went back to the drawing board to try to solve the clues.
This was an amazing experience for me as a teacher; and I believe for my students. I loved being able to observe their learning and really facilitate all the groups without leading. I think the students loved the challenge and the unknown tasks.
Ultimate sign of success..when students were leaving they asked, "When are we doing it again?!" #teacherwin
Keywords:
Share:
0

Comments
Latest Posts from Our Lead Ambassadors:
Lisa Silmser
Mar 21, 2016
I'm no spring chicken so I know that the days before and after an extended break from school can be pretty interesting. Some of the kiddos are so ...
0
Jennifer McDonough
Mar 20, 2016
Jen McDonough has been teaching and wondering with kindergarten and first graders for the past sixteen years at The Benjamin School in North Palm ...
0
Robyn Thiessen
Mar 8, 2016
I loved to see that other Wonder Leads felt that becoming a Wonder Lead was a dream come true because I felt exactly the same way!! I have used ...
0