Carol Varsalona
Stress and harmonic imbalance at home can decrease student's ability to enjoy school and perform to the best of their abilities. So what can we, as educators do? -Laura Hill, moderator of #whatisschool
Please join #whatisschool on September 21, 2017 at 7 pm EST for a global discussion on "Engaging Families and Communities in Student Learning".
While it is true that students need to be surrounded by positivity and strong classroom role models, home - school connections are important elements in student learning. Parents are the child's first teachers and their positive home environments support learning. The basis for learning starts in a home filled with wonder.
"...because your (parent) home is the primary environment in which your child's potential and personality will take shape, it's important to make sure that you create a positive, open atmosphere that will not only support what goes on in the classroom, but will also instill the desire to learn." - Connecting Home and School | Parents | Scholastic.com


Parents who build strong home-school connections are strong contributors to their children's learning. They support classroom learning, reinforce the importance of speaking and listening skills, and broaden their children's learning through enriched, at-home activities.
A Few Steps to Build Positive Home-School Relations:
Be an involved PTA parent.
Commit to your child's learning by supporting classroom activities and learning experiences.
Provide your child's teacher with information on your child's learning styles and habits.
Read with your child at home and as he/she grows older encourage reading for pleasure, enjoyment, and information.
Engage your child in community activities that promote the development of a well-rounded but not overloaded out-of-school life.
In a world of many cultures, it is important that children find their "place" in the community of the classroom. Parents who are positively involved with the school, can add to classroom learning by asking the teacher how to share their culture or traditions. Building strong home-school connections is a win-win approach for your child's learning life.
Since the school is a vital part of the community, it is also important to build strong school-community connections.
"To lift up and raise our schools to a place that suits all 21st century learners, help needs to come from many parts of the community." - 5 Steps to Better School/Community Collaboration by Brendan O'Keefe

In the past, many schools have brought community members in for classroom presentation or career day opportunities but today the need for school-community connections has expanded. The community is a stakeholder in the world of learning. Community members can provide support needed for a thriving educational system and in return they would like to see schools exiting students with the skills needed to be productive citizens and committed lifelong community members.
Your thoughts on the topic of the "hows" of engaging families and communities in student learning are vital to the development of strong relations. Family and community learning together matters.
Please join #whatisschool to bring your voice to the table of learning. Laura Hill, Moderator of WhatIsSchool, John MacLeod, Family Literacy Expert-Community Manager at NCFL, @Wonderopolis. and NYEDChat host, Wonder Lead Ambassador, and ELA Consultant Carol Varsalona @cvarsalona will explore ways to increase family, student and community engagement in the learning process on Thursday night at 7 pm EST.
Below are questions to focus the #whatisschool Twitter discussion, "Engaging Families and Communities in Student Learning".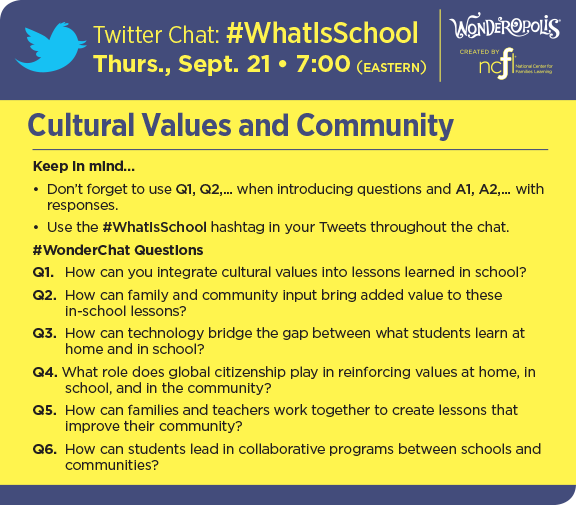 I look forward to a conversation that will open the doors to ways to strengthen valuable home-community-school connections that increase student learning.

I referenced this post at my Beyond LiteracyLink blog that you can find here.
Keywords:
Share:
0

Comments
Latest Posts from Our Lead Ambassadors:
Laura McShane
Mar 13, 2017
Lent is a shortened form of the Old English word len(c)ten, meaning "spring season." Lent 2017 is observed from March 1 [Ash Wednesday] through April ...
0
Christie Wyman
Feb 13, 2017
We don't have to go very far for Science inquiry opportunities, and I bet you don't have to, either! Our Kindergarten class had two mysteries that we ...
0
Kristie Ennis
Mar 17, 2016
By the time students reach 12th grade, many of them (particularly those of poverty) have switched on auto-pilot. Life has become complicated; ...
0