KBF #Winning
Nov 15, 2015
Kristie Ennis
Wow! I am much poorer for it, but I absolutely loved the KY Book Festival yesterday in Frankfort! I took my 9-year-old step-son and 11-year-old brother, which was once of the many reasons I am so poor now. We were enamored by the KY writers and their talents. This was as close to NCTE's exhibit hall as I have seen. I networked for the library and for my own conference. I learned about new books and how these writers got started. I got signed copies of 30+ items. I even got some free downloads and posters. This was a great event! I am really surprised, however, that it is not more publicized! I had never heard of it until this year. ELA teachers and librarians should not only know about it, but they should attend. There were many opportunities by all kinds of writers to set up SKYPE sessions, visits, and readings. I am definitely spreading the word.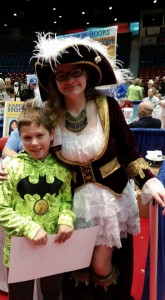 Elijah with Sophia McWilliams, a 15-yr-old published writer from KY!
Share:
Latest Posts from Other Lead Ambassadors:
Laura McShane
Mar 13, 2017
Lent is a shortened form of the Old English word len(c)ten, meaning "spring season." Lent 2017 is observed from March 1 [Ash Wednesday] through April ...
0
Christie Wyman
Feb 13, 2017
We don't have to go very far for Science inquiry opportunities, and I bet you don't have to, either! Our Kindergarten class had two mysteries that we ...
0
Carol Varsalona
Mar 18, 2016
Sometimes in life days are heavy and sometimes they are filled with wonderful news. Recently, I was blessed with good news and an announcement.It all ...
0