Wonder Hour for High School
Jun 11, 2016
Kristie Ennis
Yesterday marked the first professional learning session geared toward middle and high school teachers that centered around Wonderopolis and Genius Hour. Together, my colleague Jennifer Cox and I shared the theory behind pushing students to think above the test, to inquire constantly, and to carve out dedicated instructional time for them to pursue passion projects while still meeting the necessary core standards. Beyond that, we shared how time to wonder and create inevitably means that teachers also must coach students in college and career readiness skills that are not tested, such as problem-solving, speaking, listening, communicating, using technology to create, edit, and publish work. Lots of research, including the latest NAEP report and countless studies by colleges, shows that students are leaving high school unprepared for college in core areas and in "soft" skills. Yesterday, Jennifer and I made the argument for wondering and authentic learning opportunities as one of the ways we can better prepare them to be successful in life, academia, and as citizens. We have both made many mistakes, as Jennifer put it "flying the plane while building it", but in sharing those and the ideas that worked with our students and the community partners we have involved in our projects, students have ultimately won. Both of us feel confident that 100% of the students in both her 6th grade Genius Hour class and my 12th grade English 101 dual-credit course have improved in various standards, both academic and social, and are better off as young people for having spent some time away from traditional test prep. #Amen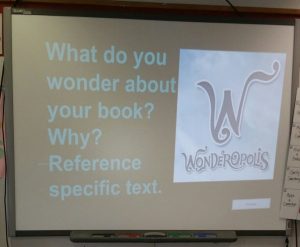 Share:
Latest Posts from Other Lead Ambassadors:
Laura McShane
Mar 13, 2017
Lent is a shortened form of the Old English word len(c)ten, meaning "spring season." Lent 2017 is observed from March 1 [Ash Wednesday] through April ...
0
Christie Wyman
Feb 13, 2017
We don't have to go very far for Science inquiry opportunities, and I bet you don't have to, either! Our Kindergarten class had two mysteries that we ...
0
Carol Varsalona
Mar 18, 2016
Sometimes in life days are heavy and sometimes they are filled with wonderful news. Recently, I was blessed with good news and an announcement.It all ...
0