NCFL
Six libraries across the nation were awarded $1,500 grants, NCFL training, and Youth and Family Campsite Kits to implement Camp Wonderopolis programming this summer, thanks to generous support from Better World Books. These libraries provided Maker activities exclusively found in the Youth and Family Campsite Kit and suggested book pairings for each of the six Camp Wonderopolis tracks online. In this guest blog post, Pottsboro Library (Pottsboro, Texas) shares their final Camp Wonderopolis session for this summer:

"For Good Measure" was the title of our sixth and final session of Camp Wonderopolis in our Food Science Program at the Pottsboro Library.
We invited a student chef in the culinary arts program at Grayson College to host wonder-filled lessons for our children that combine food and science. In this lesson, we learned that accurate measurements are one key to yummy baked goods. Grandfathers, parents and children participated in this 1 1/2 hour session, which ended with eating the muffins prepared in class.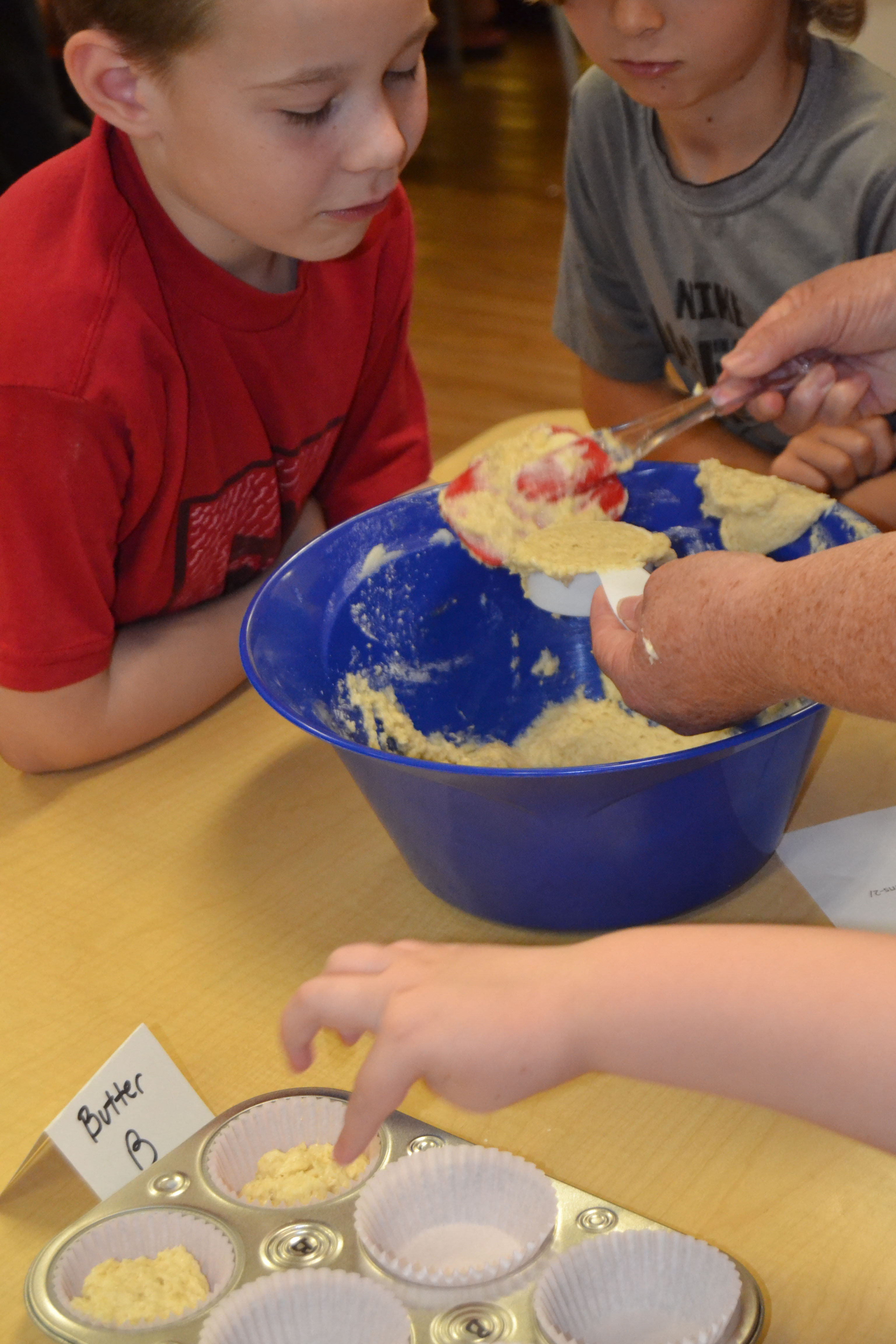 This session started with learning how to accurately measure dry and wet ingredients. To get light and fluffy baked goods, careful measuring of flour is important. If you have a food scale at home, you can be exact. If you don't have a food scale, measure flour by stirring it up in the container, sprinkling it into the dry measuring cup and then leveling off. Many people make the mistake of scooping flour which results in it being compacted. If you have more flour than the recipe calls for, the baked good will be dense. The kids took turns measuring 1 cup of flour, and the food scale showed how the weights differed. This is a tip that even people who have been cooking for many years don't always know.

The participants were divided into eight teams of 5. A team name was given to each group that was a reflection of the words or ingredients used in our lesson. Each group had their own bowls, measuring spoons and cups and spoons to stir with. The recipe was read aloud first, since it is important to know the steps before you start mixing. Baking is a science and specific steps must be taken in order to achieve the best and consistent results. After counting off in their groups, each recipe step was assigned to a specific team member. Those that were measuring had to find the correct measuring cup or spoon(s) they would need to measure their specific ingredient(s).
Dry ingredients were combined in one bowl and wet ingredients were combined in another before gently mixing the two. The reason for mixing dry ingredients separately was explained. It's more likely to get an even distribution of the dry ingredients if they are combined first. You don't want a spoonful of salt or baking powder to be all in one place in your mixture. Making muffins was a busy project as the conversations and voices made for a lively time.
When the batter was ready, the muffins went into the oven. While we waited for the muffins to bake, we talked about what we had learned today and these past six weeks. One student immediately raised her hand and said that baking from "scratch" was easy. Yes it is!
When the timer rang the muffins were tested for doneness. Each muffin had a toothpick inserted so the students could check to see if the toothpick came out clean - indicating the muffin was done. A toothpick wet with batter means more time is needed in the oven.
Students took turns swirling their muffin tops in melted butter and cinnamon sugar if they desired. After enjoying their delicious creations, everyone went home with a baking kit that included measuring spoons and cups and a list of baking conversions and equivalents.
Keywords:
Share:
0

Comments
Latest Posts from Our Spotlights:
Kim Martin
Jun 5, 2016
I've been an inclusive technology specialist and digital technology consultant for several years and this year I've decided to return to the ...
8
Deb Frazier
May 24, 2016
This post was originally posted on Two Writing Teachers on May 11, 2016 by Deb FrazierI am reading more and more about maker spaces and the more I ...
17