Carol Varsalona
Have you ever wondered how you could brighten someone's day? Wonderopolis provides a quick answer for teachers and children who are interested in spreading joy to others at the Wonder of the Day #875, How Can You Make Someone's Day? Twitter even has a hashtag #KindnessIn5Words.
People who are kind to others are empathetic, caring individuals who extend a helping hand through words and actions. Teachers promote kindness in school through social, emotional learning skills and activities. They build classrooms of caring where cultures of trust exist. All voices are honored in these havens of learning where teachers guide students to embrace the virtues of kindness, tolerance, cooperation, patience. The act of sharing is encouraged at all times. Kindness flows here and is returned through random acts of kindness inside and outside the school environment.
The 2nd week of February is Random Acts of Kindness Week and February 17th is celebrated as the National Random Acts of Kindness Day. For teachers interested in a read aloud to spark discussions on kindness, The Poetry Friday Anthology of Celebrations, compiled by Sylvia Vargas and Janet Wong, feature Eileen Spinelli's poem, How To Love Your Little Corner of the World, in English and Spanish.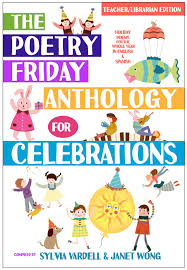 In the accompanying Teacher/Librarian Edition, follow-up activities are listed. The reading of this poem may also lead to a short video created illustrating Spinelli's poem like the delightful one on YouTube that can be accessed here.
On Twitter there are tribes of connected friends who share learning spaces and friendship connections through digital communications. Last week, under the #KindnessIn5Words hashtag, digital inspirations were floating. Below are a few examples that were sent to me by Twitter friends, Mayra Portalatin, Alyssa Heeneke, and Karen @Teach4SpclNeeds. Kindness was shared through these transmissions and ultimately, joy spread.
In the Wonderopolis Wonder of the Day #685, six ways to "make" someone's day are shared with children. You may have other ideas on how to spread kindness and joy. My friends and I engaged in a random act of kindness last week by sending out digital inspirations as #PositiveThinkingThursday reminders. During the next days before Random Acts of Kindness Week, how will you share gestures of good will and human spirit to bring kindness into the world?
"No act of kindness, no matter how small, is ever wasted." -Aesop
Keywords:
Share:
0

Comments
Latest Posts from Our Lead Ambassadors:
Laura McShane
Mar 13, 2017
Lent is a shortened form of the Old English word len(c)ten, meaning "spring season." Lent 2017 is observed from March 1 [Ash Wednesday] through April ...
0
Christie Wyman
Feb 13, 2017
We don't have to go very far for Science inquiry opportunities, and I bet you don't have to, either! Our Kindergarten class had two mysteries that we ...
0
Kristie Ennis
Mar 17, 2016
By the time students reach 12th grade, many of them (particularly those of poverty) have switched on auto-pilot. Life has become complicated; ...
0