Laura McShane
I am sharing my notes for the OpenCon2109 held on March 7-8, 2019 at Cleveland State University. I was not able to attend the entire conference this year, but the CSU team will make the entire program accessible - and FREE to all.
For me, it is encouraging, but at the same time frustrating that the move towards Open Educational Resources (OER) is finally being discussed in higher education circles, when, in practice, the K-12 environment has long struggled to find OER --out of sheer necessity!
The National Center For Families Learning created Wonderopolis in response to this educator and student need. And, as I noted in an earlier blog post - several platforms have tried to support access to quality content, including the now defunct Verizon Thinkfinity site.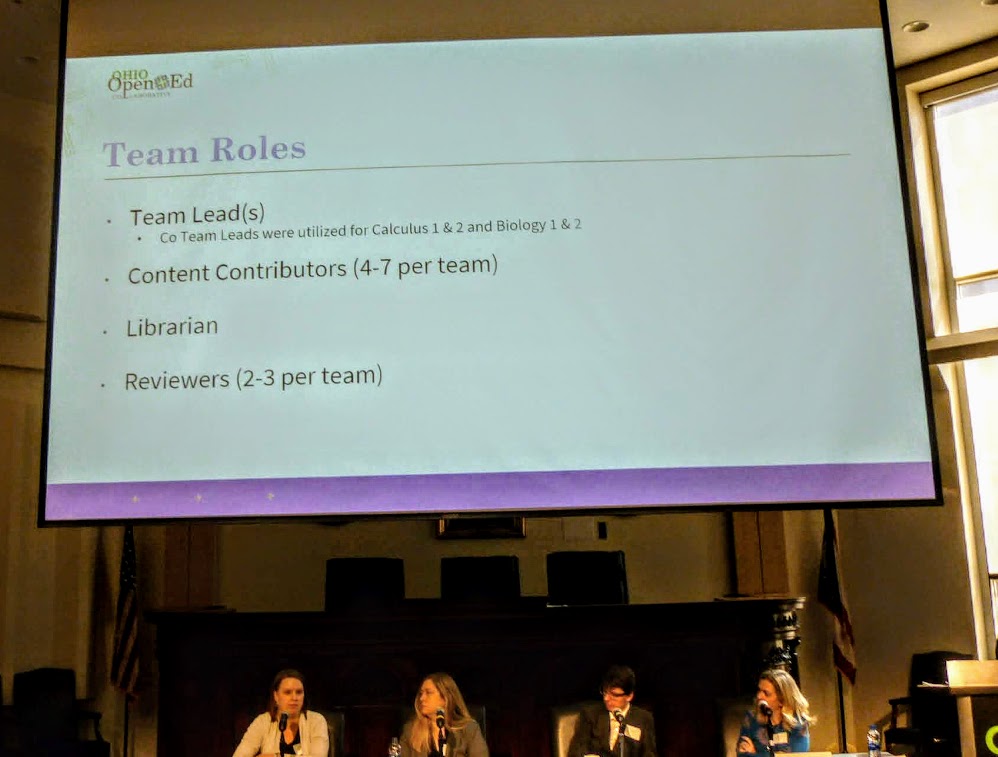 The Ohio Open Ed Collaborative: Collaborating to Curate, Create, and Adopt OERs Across Ohio
Amanda Postle, The Ohio State University
Anna Bendo, OhioLINK
Anna Davis, Ohio Dominican University
Ashley Miller, The Ohio State University
At the conference, I learned that Ohio State University and partners are working to find Creative Commons materials that can be aligned with standards and then with assessments to accredit students in core skills.

The photo shows the team that have developed the Ohio Open Ed Consortium funded through the Ohio Department of Education. Cohorts formed by taking into consideration transfer guidelines across the State of Ohio to standardize content with required core coursework.
https://affordablelearning.ohiolink.edu/Guide/Cons...

The Open Ed Consortium will only grow as more universities recognize that the benefit of successfully transitioning students from high school to college and university requires Open Educational Resources. Parents of students at the preK-12 level should recognize that access to OER is a basic right. Literacy is a human right. It is a right to the pursuit of happiness!
OER brings communities, schools and libraries together for life long learning -- with recognition that LITERACY+ACCESS shapes our collective happiness and function in society. Libraries help bridge the gap. Grow with Google and Google for Education are OER intiatives, but there is a learning curve and question of time needed to find and curate materials for your lesson plans. Let the National Center for Learning and Wonderopolis help you!
Here are some of the other OER initiatives I learned about this week:
Higher Education:
https://affordablelearning.osu.edu/

http://www.clevelandart.org/open-access
PreK-High School
https://www.rif.org/literacy-central

https://openspace.infohio.org/

https://classroommagazines.scholastic.com/support/learnathome.html

A special note of praise and thanks to Kessandra Jackson and Eric Shelton at Cuyahoga County Community College's Center for Learning Excellence for their roundtable discussion: Digital Access: Engaging Students Across the Digital Divide. Educators have access to tools that bring everyone along the journey to literacy.
Resources shared:
http://www.tri-c.edu/online-learning/faculty-resou...

Remember-Wonder Ground is a FREE template tool teachers and schools can use to create curriculum.
It is intuitive and easy to use for the creation of OER lesson plans in your school. If you need help with the Wonder Ground platform or can suggest other FREE and useful tools - please contact me in the comments.
Join Wonderopolis' Wonder Ground community and share OER resources that you use in the classroom! Support the National Literacy Directory:
https://www.nationalliteracydirectory.org/

*** Updated 4/3/2020 - Hive Learning is again in the news. Mozilla Foundation began an initiative that stalled, but needs to be revisited.
https://foundation.mozilla.org/en/artifacts/hive-l...

MacArthur Foundation followed up with https://www.lrng.org/

Google and Microsoft have educator hubs

On a grass roots level- teachers are helping teachers on Facebook:

http://www.amazingeducationalresources.com/

How can these resources be consolidated?

Keywords:
Share:
0

Comments
Latest Posts from Our Lead Ambassadors:
Christie Wyman
Feb 13, 2017
We don't have to go very far for Science inquiry opportunities, and I bet you don't have to, either! Our Kindergarten class had two mysteries that we ...
0
Carol Varsalona
Mar 18, 2016
Sometimes in life days are heavy and sometimes they are filled with wonderful news. Recently, I was blessed with good news and an announcement.It all ...
0
Kristie Ennis
Mar 17, 2016
By the time students reach 12th grade, many of them (particularly those of poverty) have switched on auto-pilot. Life has become complicated; ...
0