Paul W. Hankins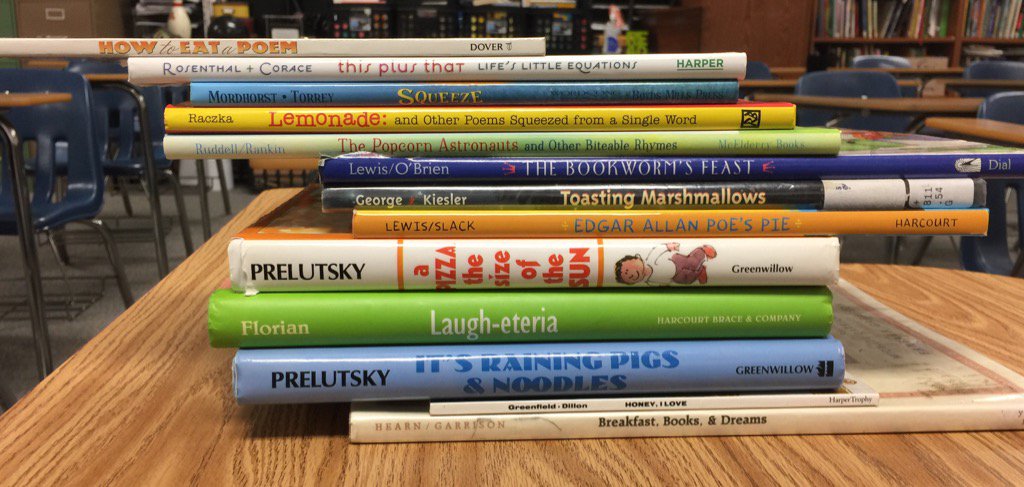 Here is a "Spine Poem" inspired by Wonder #1663, "How Sweet is Honeysuckle?"
This wonder inspired me to wonder how sweet it is that we have a month to focus in on poetry--in particular, children's poetry. And even sweeter, that we have an opportunity to work with a poet like Amy Ludwig VanDerwater this month at the Wonder Ground to encourage wondering about poetry and writing our own poetic pieces.
I wondered how many children's poetry books I had in Room 407 that said something about food or sweets or eating. And what I found is in the stack. At the end of this post, I will offer a list of the titles in the stack in case you'd like to find them for your own classroom library.

Spine poems are created by stacking titles of books in a manner that suggests a poem. Now, I have seen these done in a true stack with one book piled on top of others. I like to split my stacks so as to suggest line breaks. The open spaces in the stack now might even invite me--the poet--to come in with a connector word or phrase that might help to lend some clarity to the scaffold that I've created.
In my own classroom, I have encountered students who simply want to read the stack and miss how the stack has a poetic styling that might move beyond a simple sort of listing. There is a poem in this stack I made this morning. I am revising the poem even as I look at the stack a second time (teachers--this would be an example of manipulative revision--your hands-on learners would thrive with this stacking and unstacking).
I think it looks like this (what I want you to notice is how this poem might be read aloud in this form vs. the stack I created. The stack gave me the words in a scaffold. Now, I am going to reconstruct the poem using stanzas. Scaffold. Structure. Stanza ("little rooms").

"How to Eat a Poem"
Squeeze poems
from a juicy universe--

This. Plus That.
like lemonade,
other poems squeezed
from a single word.
Popcorn astronauts
and other biteable rhymes,
the bookworm's feast:
a potluck of poems.
Toasting marshmallows,
Edgar Allen Poe's pie,
a pizza the size of the sun.
Laugh-eteria:
it's raining pigs and noodles.
Honey, I love
breakfast, books, and dreams.

I hope that you will share this technique and approach to poetry with your students this month. If you do, please share them with Amy and I at Twitter, #WallowinWonder.

Here is a collection of the thirteen books featured in today's "spine poem." Remember, you can still create couplets and poems with few lines to respond to a prompt which affords you--the teacher--the ability to share more books with the writers in the room. This might be an interesting way to have students respond to creative prompts in the room wherein they might browse the library collection to find two titles that would help them to respond. The stack on the student's desk might be your formative assessment (an idea to take away).
Florian, Douglas. Laugh-eteria. New York: Harcourt Brace & Company, 1999. Print.

George, Kristina. Toasting Marshmallows: Camping Poems. New York: Clarion Books, 2001. Print.
Greenfield, Eloise. Honey, I Love. New York: HarperCollins Publishers, 1978. Print.
Hearn, Michael Patrick. A Day in Verse: Breakfast, Books, and Dreams. New York: Frederick Warne, 1981. Print.
How to Eat a Poem: A Smorgasbord Of Tasty and Delicious Poems for Young Readers. Mineola, New York: Dover Publications, Inc., 2006. Print.

Lewis, J. Patrick. Edgar Allen Poe's Pie. New York: Harcourt Children's Books, 2012. Print.

Lewis, J. Patrick. The Bookworm's Feast: A Potluck of Poems. New York: Dial Books for Young Readers, 1999. Print.
Mordhorst, Heidi. Squeeze: Poems from a Juicy Universe. Honesdale, Pennsylvania: Boyds Mill Press, 2005. Print.

Prelutsky, Jack. A Pizza the Size of the Sun. New York: Greenwillow Books, 1994. Print.
Prelutsky, Jack. It's Raining Pigs & Noodles. New York: Greenwillow Books, 1993. Print.
Raczka, Bob. Lemonade and Other Poems Squeezed from a Single Word. New York: Roaring Book Press, 2011. Print.
Rosenthal, Amy Krouse. This Plus That: Life's Little Equations. New York: Harper, 2011. Print.

Ruddell, Deborah. The Popcorn Astronauts: And Other Biteable Rhymes. New York: Margaret K. McElderry Books, 2015. Print.
Share:
0

Comments
Latest Posts from Our Lead Ambassadors:
Lisa Silmser
Mar 21, 2016
I'm no spring chicken so I know that the days before and after an extended break from school can be pretty interesting. Some of the kiddos are so ...
0
Jennifer McDonough
Mar 20, 2016
Jen McDonough has been teaching and wondering with kindergarten and first graders for the past sixteen years at The Benjamin School in North Palm ...
0
Renee Cunningham
Mar 17, 2016
Do you have a work BFF? That person that you can say anything to, bounce ideas off of, even share workplace gossip (it happens everywhere). Beyond ...
0