The Great Serum Race
40 min.
Objective
Understand epidemic, population, vaccines and role of medicine in controlling disease.
Big Idea
Role of non-human animal species and interspecies communication in history of world
Read The Great Serum Race - Blazing the Iditarod Trail by Debbie S. Miller with illustrations by Jon Van Zyle

Every March, the Iditarod Trail Sled Dog Race commemorates the 1925 serum run to Nome. The race begins in Anchorage and ends in Nome, more than 1000 miles away.
Balto and his owner, Gunnar Kasson, ca. 1925. CPL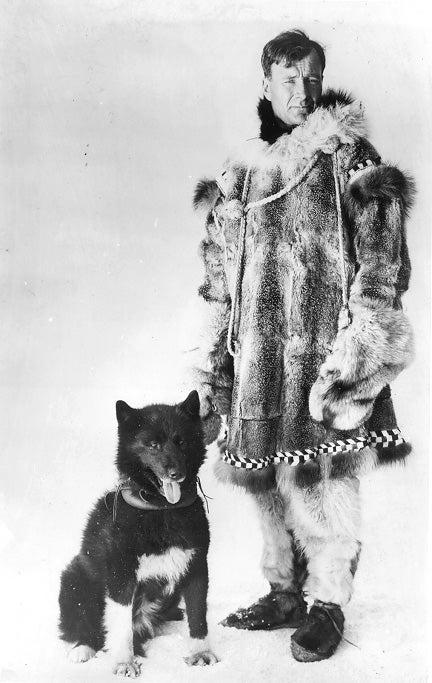 Open Educational Resources:
https://iditarod.com/edu/about-iditarod-edu/

https://www.wonderopolis.org/wonder/what-is-a-dog-sled
https://www.oercommons.org/courses/the-last-great-race-teaching-the-iditarod/view
https://www.oercommons.org/courses/balto

http://www.partnershipsmakeadifference.org/uploads/3/9/3/2/3932381/tracking_the_iditarod.pdf

Additional reading: Selvakumar Knew Better by Virginia Kroll - illustrated by Xiaojun Li
https://www.oercommons.org/courses/once-and-future-tsunamis/view

Follow up with a visit to the Cleveland Museum of Natural History
https://www.cmnh.org/balto
After their courageous feat, Balto and his team became part of the vaudeville circuit and then were sold to become a sideshow attraction in a dime museum in Los Angeles. This development and the dogs' poor living conditions caught the attention of Cleveland native, George Kimble, who organized an effort to help save the dogs. Through collaborative effort, Cleveland rallied together to raise enough funds to purchase Balto and six other dogs from the team, allowing them to comfortably live out their lives at the Cleveland Zoo, now Cleveland Metroparks Zoo